The pink lakes, of Las Coloradas located in eastern Yucatan, without a doubt a magical place. You only find these wonders in the state of Yucatán in Mexico, in the Rio lagartos biosphere. If you are in the Riviera Maya or Cancun you could get to know this place on our day tour at the pink lakes
salt plant production
Las Coloradas, salt has been produced for hundreds of years, dating back to the Mayan era. Thanks to the Roche family that began mining 5,000 tons of salt a year in 1940. It has a population of approximately 1,000 inhabitants. In Las Coloradas you will be able to observe the majority of the population that is dedicated to the salt industry and fishing. In fact it is the base of the economy although tourism does not leave a very good economic spill for these two The latter remain the highest priority activities at the site.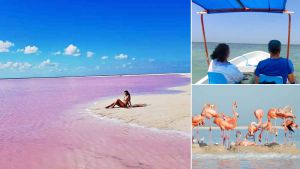 The pink lakes on demand
In recent years the pink lakes of Las Coloradas has developed considerably due to an ecophilic tourist. Due to the great biodiversity that can be found there. Its beautiful virgin beaches, flora and fauna such as seabirds and abundant mangroves are the main attraction. The concentration of salt and microorganisms make the sea of Las Coloradas stain a peculiar pink tone. That has caused hundreds of tourists to travel to this point to witness such a spectacle. Tourists regularly combine the walk with Río Lagartos, a small very picturesque fishing village where you can eat seafood at a fairly affordable price. Also belongs to the natural biosphere reserve, Rio Lagartos also contributes to the recognition of the place and to increase the tourist flow that benefits both the coloradas and rio lagartos .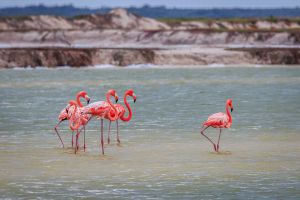 However admiring the pink color of the sea. You will enjoy an unforgettable experience when observing the beautiful pink flamingos within their natural habitat. It is definitely an experience you cannot miss, we will take you to 
If you want to know how to get to this magical place, check the following options.