Las Coloradas is a small fishing town that is located to the East of the Yucatan Peninsula. And it is located approximately 2 hours 45 minutes from Cancun and 3 hours from the Riviera Maya. For some time, Las Coloradas has become the attraction of a large number of tourists who seek to take their photos or simply get to know this place that has the famous pink lagoon.
Book it in a Private Tour to the Pink Lakes.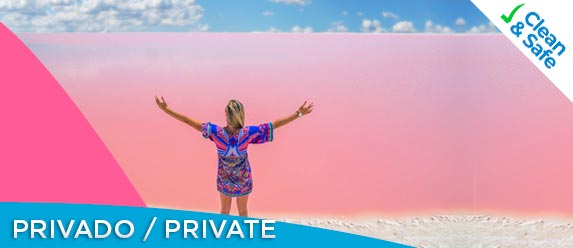 The pink lakes, of Las Coloradas located in eastern Yucatan, without a doubt a magical place. You only find these…
Very popular tour
Many tourists from all over the world come to Cancun asking about this beautiful place. However, what they sometimes do not know is the distance and the location. That is why here are some of the important points that you should consider if you want to visit this beautiful place.
HOW TO GET TO LAS COLORADAS?
Another important detail of Las Coloradas is that there are several ways to get there, such as Cancun or the Mayan Riviera, and along the way you will see different cities that were founded by Spaniards and you will also find many cenotes with crystalline water, convents and archaeological sites. So not only will you see the coloradas but you will also know little about the interesting history of the Yucatan peninsula, this will make your trip unforgettable.
The Pink Lakes
In Las Coloradas you can also enjoy its sand dunes that give it a unique touch all the way. In addition, you cannot miss the mountains of salt and its imposing white color that you will surely want to take the photo to share. Once you are in the port, you will meet some locals who will offer you access to the salt mine – it is the only way you can do it. The cost is $ 50 pesos per person and includes a brief explanation of the place. The pink ponds are the private property of the salt industry of the Yucatan peninsula created in 1946.
The Best Season
The best season to enjoy the beaches of this port is to visit it between March and August, since in these months it is when there is more heat and sun. To find pink waters, the ideal is to visit it at noon, just when the sun hits the lagoon fully and maximizes the pink color of these.
In addition to the above, it also coincides that those months are the best season to spot flamingos.
Book this Private Tour