The eden of reefs
The name of the Cozumel island is a Mayan word that means island of the swallows. Since it is very common to find this bird in the area. Researchers claim that the first Mayan settlers settled in Cozumel 2,000 years ago. This is demonstrated by the studies that have been carried out in the archaeological zones of El Cedral, El Caracol and San Gervacio, the most important ceremonial center. During the postclassic period, the Mayans used the island as a place to worship Ixchel, the goddess of fertility.
See private snorkel tour to Cozumel.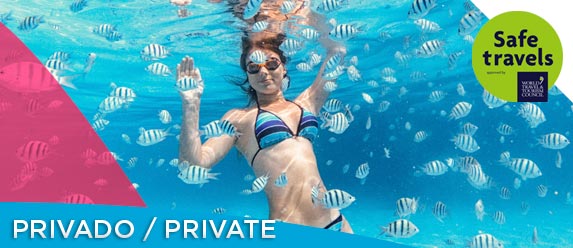 Clear Boat in Cozumel The best tour of the moment! If you are looking for adventures, good selfies and to…
Did you know that Cozumel Island is the largest island in the Mexican Caribbean? It has 48 kilometers from north…
History of Cozumel
Important characters in the conquest lived on the island of Cozumel, such as Gonzalo Guerrero and Jeronimo de Aguilar. Shipwrecked from an expedition that ran aground on the island and stayed to live there for a long time. Gonzalo Guerrero being the first Spaniard to he falls in love with a Mayan princess and in this way miscegenation occurs. An important fact is that Gonzalo Guerrero fought against the Spanish, always defending the Mayans upon the arrival of Hernan Cortés. When Hernan Cortes left Cozumel, the ancient civilization was in decline. Additionally, the few remaining settlers were infected with smallpox, a disease that wiped out most of the population, almost wiping out the entire native population. Between 1519 and 1570 the population of the island decreased from 40,000 to 30. So the island remained in oblivion being only the refuge of some pirates.
The favorite diving destination
Nowadays Cozumel is an extremely important destination in the Mexican Caribbean. It has an international dock and daily cruise ships arrive from all over the world. It is also the favorite place of divers. From the second Mesoamerican reef is born on the island, it is the paradise for people who practice water activities like snorkeling tours and diving experiences.
How to get to Cozumel?
To get to Cozumel you must board the ferry in Playa del Carmen. This journey lasts 45 minutes and you arrive at the center of the island. Going down you will find many offers to carry out your activities and spend an unforgettable day.