Clear Boat in Cozumel
The best tour of the moment!
If you are looking for adventures, good selfies and to experience the turquoise water. The Mexican Caribbean in its maximum splendor is what you need.
This is the Famous Clear Boat in Cozumel. As if it were taken from a Wonder Woman comic if this is a 100% transparent bottle. Book it now!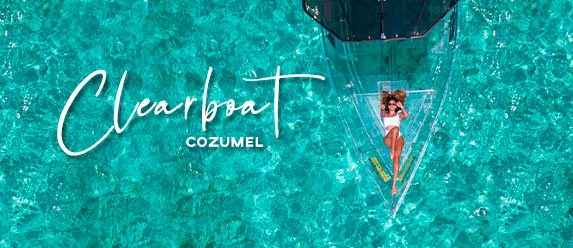 This Transparent Boat will take you to some of Cozumel's beautiful reefs. It is worth mentioning that they are among the best in the world. In these paradisiacal points, you can snorkel and you will find a great variety of tropical fish of different colors and impressive marine creatures. Some of them are such as manta rays, lobsters, barracuda, or even sunken ships. It is not even necessary to get off the boat! You will be able to see all the marine fauna from above.
Snorkeling in Cozumel Reefs
The tour, in addition to its original boat style, includes more fun. Includes a visit to one of the most beautiful reefs in the world. This experience lasts around 20 minutes during which you will be able to see how your companions swim under the boat or the marine creatures that approach with curiosity to meet the visitors. Book Snorkel in El Cielo Cozumel
A Different Experience
This adventure has quickly become one of the most popular tours of all travel agencies and tourist communities. The brainchild of a glass boat (although not really glass) offers a different experience from all the regular snorkeling tours. It is an adventure that can be done as a family, the little ones love to see through the boat. If a companion is not a fan of snorkeling or does not know how to swim, it is not a problem, since they can appreciate the treasures of the Caribbean Sea thanks to the transparency of these boats. Book this tour here
Where does the clear boat depart from?
This tour is also available at other points in Quintana Roo such as Cancun and Isla Mujeres. However, the one that sees the most outstanding reefs and lasts the longest is Cozumel. 
Which is the best clear Boat Tour?
Of course, our Clear Boat Tour in Cozumel has the advantage that it includes transportation, that is, we will take you from the door of your hotel to the transparent boat itself. In some cases, we pick you up at a meeting point. Later we will take you to the port to take the ferry. Is the only one to take you to the Island of Cozumel.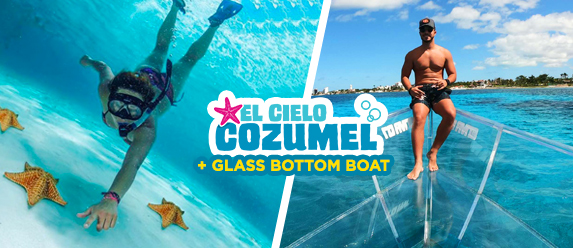 Once you have arrived on the island, a taxi will be waiting for you. It will take you directly to the fiscal dock where we board the transparent boat and begin the adventure.
Other agencies only offer you tickets to board the glass boat, so it would be your responsibility to get there on your own. With us you do not have to worry, we do everything so that you and your companions only dedicate themselves to enjoying themselves. Click Here