Welcome to the captivating paradise of Cancun and the surrounding regions of Costa Mujeres, Riviera Maya, and the Yucatan Peninsula. With stunning beaches, ancient ruins, vibrant culture, and tantalizing cuisine, this corner of Mexico offers an unforgettable vacation experience. In this guide, we'll provide insights into the weather patterns across these destinations and offer exciting activities to enjoy even on cloudy or rainy days.
Weather in Cancun: Cancun is renowned for its year-round tropical climate, promising warm temperatures and abundant sunshine. The region enjoys a distinct dry season from November to April, with average temperatures ranging from 75°F to 85°F (24°C to 29°C). The dry season is characterized by clear skies and minimal rainfall, making it the perfect time to explore the dazzling white-sand beaches and indulge in water sports such as snorkeling, scuba diving, and sailing.
Costa Mujeres: Located just north of Cancun, Costa Mujeres is a hidden gem known for its pristine beaches and luxurious resorts. The weather in Costa Mujeres follows the same patterns as Cancun, offering warm temperatures and ample sunshine throughout the year. The dry season is the ideal time to unwind on the palm-fringed beaches, bask in the turquoise waters, and partake in beachfront activities like beach volleyball or beachside yoga.
Riviera Maya: Further south along the coast, you'll find the mesmerizing Riviera Maya. This region is blessed with a tropical climate that boasts comfortable temperatures and plenty of sunshine. The dry season aligns with Cancun, making it a great time to explore the captivating ancient Mayan ruins of Tulum, snorkel in the clear waters of the Great Maya Reef, or take a refreshing dip in the area's cenotes, natural sinkholes filled with crystal-clear water. 
Yucatan Peninsula: Stretching beyond the coastal destinations lies the enchanting Yucatan Peninsula, home to historic sites, natural wonders, and rich biodiversity. The weather here remains relatively warm and pleasant throughout the year. The dry season, from November to April, offers the best conditions for exploring the majestic ancient city of Chichen Itza, swimming in the breathtaking cenotes of Valladolid, or embarking on an unforgettable journey through the biosphere reserves of Sian Ka'an.

When the weather in the Mexican Caribbean is unfavorable, the first thing the authorities do is close the ports. So the only activities that are usually canceled are those that involve using a port. Whether it's ferry navigation between islands and boat rides or yacht and catamaran tours. But there are plenty of weather-proof tours out there. 
What to do with cloudy or rainy weather in Cancun?
Activities for Cloudy or Rainy Days: While Cancun and its surroundings are known for their sunny climate, occasional cloudy or rainy days can occur. Don't let a bit of rain dampen your spirits, as there are still plenty of exciting activities to enjoy:
Visit Museums and Historical Sites: Cancun and the Yucatan Peninsula are replete with museums and historical sites that offer fascinating insights into the region's rich heritage. Explore the Museo Maya de Cancun, Museo Subacuático de Arte (Underwater Art Museum), or the Museo de la Cultura Maya in Chichen Itza. Immerse yourself in the ancient Mayan civilization and learn about their remarkable achievements.
Archaeological Zones
The Mayan Ruins such as Tulum, Coba, and Chichen Itza are ideal to visit when the weather is cloudy in Cancun. In this type of activity or tour, the sun and heat are usually a factor of wear and tear. So a cloudy sky will make your visit more pleasant and allow you to better enjoy the explanations of the certified guides. Even if it rains you can use an umbrella and continue with your visit and activities without problems. After all, you don't get the chance to visit the seventh wonder of the world every day. Right? Book your tours here.
Cenotes with Rainy Weather
Delve into Cenotes and Caves: The Yucatan Peninsula is famous for its cenotes, and rainy days provide a unique opportunity to explore these natural wonders. Descend into the mystical underground caves, swim in the crystal-clear waters, and marvel at the stunning stalactites and stalagmites.
Popular cenotes include Ik Kil, Dos Ojos, and Cenote Hubiku.

Indulge in Spa Treatments and Wellness Activities: Rainy days are perfect for pampering yourself and rejuvenating your senses. Treat yourself to a spa day, indulge in traditional Mayan rituals, or opt for a therapeutic massage using indigenous ingredients. Many resorts and wellness centers in Cancun offer a wide range of rejuvenating treatments to choose from.
The cenotes, whether underground or open, are an excellent option to visit and enjoy even when it is raining, their waters do not carry currents like rivers, so they do not offer risks when swimming in them with the rain. The cenotes are famous for being beautiful even in the rain. Their crystal clear waters are found throughout the subsoil of the region. 
Unless it's some storm that could cause flooding. But that situation can be prevented thanks to the current weather system and it would hardly take us by surprise. 
ATVS and Zip Lines in the Mayan Jungle
The ATVs are another option for weather-proof tours since a little rain will only make your journey on board an ATV through the Mayan jungle more fun and exciting, crossing huge puddles of mud and mud that will make you feel more alive than ever It will be your baptism of adventures! Book your ATV tour here.
The zip lines also offer a great alternative since the rains are not an obstacle to being able to slide through the trees at full speed and appreciate many animal species of the region that are happy to cool off in this weather. The Mayan jungle will seem to be more alive with the rain, receiving water from the sky in harmony with the wind and the song of all the birds. Book your zipline tour here.
Design your own private tour
One of the most sought-after options is a private tour to have a van or truck as well as an experienced guide. This way you will be able to know all the hidden places where the local inhabitants usually enjoy good food. Do their shopping or visit hidden gems from the rest of the tourists. So, we are talking about jewels such as the small town of Puerto Morelos. Playa del Carmen and Fifth Avenue. The hotel zone of Tulum where you can see the giant sculpture Ven a la Luz. Cloudy or rainy weather will not be able to stop your best vacations.
Another Cancun Weatherproof Tours
Discover Culinary Delights: Use a cloudy day as an opportunity to savor the diverse flavors of Mexican cuisine. Embark on a culinary journey through Cancun's local markets, where you can taste delicious street food and sample regional delicacies. Alternatively, participate in a cooking class and learn how to prepare authentic Mexican dishes, such as tamales or ceviche.
In addition to the outdoor tours, you can also opt for indoor activities and experiences, a good example is our Mexican gastronomy tour with the Taco Tour Cancun, where you can enjoy the original Mexican tacos and have a cold beer on a very Mexican night.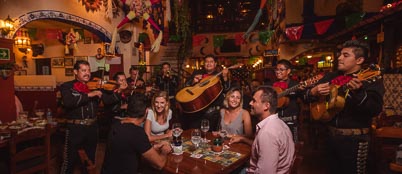 If you are a lover of trying new things, you can attend the natural workshops of Chococacao Maya where you will make your own honey soap in addition to trying 100% natural foods after swimming in the beautiful cenote. Book your visit.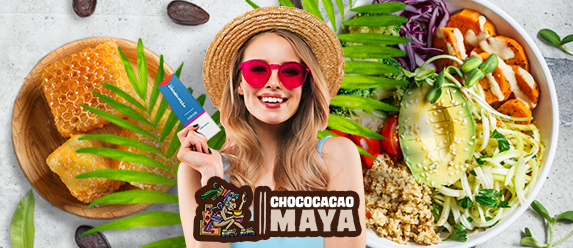 Cancun, Costa Mujeres, Riviera Maya, and the Yucatan Peninsula beckon holidaymakers with their stunning natural beauty, historical treasures, and warm hospitality. While the sun graces these regions for the majority of the year, occasional cloudy or rainy days provide the chance to explore indoor attractions, delve into the region's rich cultural heritage, and indulge in relaxation and wellness activities. Embrace the diverse experiences these destinations offer, and let your holiday be a perfect blend of sun-soaked adventures and delightful rainy day discoveries.