The Cenote Kooleb Caab is located in the Yucatan peninsula. There are more than 6000 registered cenotes. Which were formed thousands of years ago. And this is because the entire peninsula is made up of limestone. That is why there are no rivers on the surface in that area Only the underground rivers. Which today we know as cenotes. For the Mayan culture, the cenotes are sacred places. They use them for sacrifices. And in the same way they served to purify the body.
In the 3 states that make up the Yucatan peninsula which are Yucatan, Campeche and Quintana Roo. We can find cenotes, and all without exception have their charm. If you are walking in Cancun, the Riviera Maya or Tulum you should not miss visiting when Less 2 different ones. I suggest you visit the ones that are not so crowded for 2 reasons, Price and privacy
Next I will suggest 2 that will fascinate you and are completely different and comply with the 2 suggestions in terms of price and privacy.
multun-ha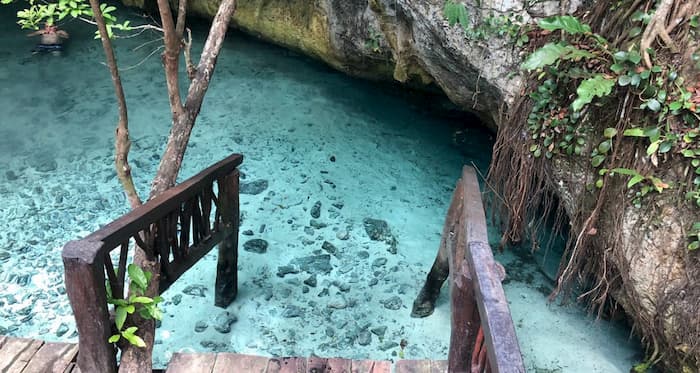 Multun Ha means hill of stones in the water. This name is given because you can see under the platform a heap of stones at the bottom that give the impression of being a Mayan pyramid. It was discovered 18 years ago. But opened to the public just 5 years ago.
kooleb caab
It means "queen bee" this is because it is located in the Sanctuary of the melipona bee in Coba. Only 3 km before reaching the town. A place that you cannot miss since it is in the middle of a Mayan sacbe connected the archaeological zone of Coba with Yaxuná. And Mayan vestiges is the only cenote that has these characteristics. In addition to being able to swim in the cenote you will also learn in the same place to make your own candle or honey soap. As the artisans of the Mayan community de coba will teach you. In the same way you can eat unique dishes made with honey and completely organic cocoa, without a doubt it is a place to spend half a day and relax completely.