The cenotes are wells of water, most of them are very deep. Which are fed by the filtration of the rain. Considered that the Yucatan peninsula is formed limestone. Which functions as a filter, which forms streams of the rivers that are born in the heart of the earth. Therefore, when swimming in a cenote you feel the cold water, the average temperature of its waters is a maximum of 23 ° C. There are more than 7000 of these in the Yucatan Peninsula. They are really fascinating scenarios. Diving or snorkeling inside the cenotes is one of the most requested water activities, as it is a fantastic experience.
Therefore, if you are on vacation in the Mexican Caribbean. Dare to discover the depths a world of the privileged. Similarly. In Cancun and on the Riviera Maya there are more than 30 where you can go swimming in its fresh underground waters.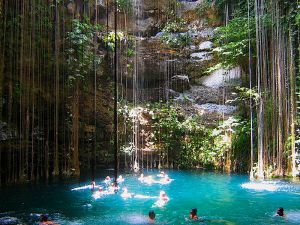 There are 3 types of cenotes, shot, surface and also cave. It is very common to find them throughout the Yucatan peninsula since there are no rivers on the surface. They are all underground.
THESE ARE SOME OF THE BEST CENOTES OF THE YUCATAN PENINSULA:

1-CENOTE YAXMUUL
Real underground natural pools with impressive crystal clear waters where you can swim and enjoy an authentic Mayan ceremony with a shaman. See tour to YaxMuul Cenote.

2-CENOTE ZACIL-HA
In Spanish its name means "clear water". It was discovered only 30 years ago. See tour tu Cenote Zacil Ha
3- CENOTE MULTUN-HA
Multum Ha is a Mayan name that means "hill of stones in the water". It received this name because a mound of stones can be seen below the platform that could be a vestige of the ancient Mayans. See tour tu Multun Ha cenote
4-CENOTE XCAJUM
Just 10 minutes from the famous archaeological zone of Chichén Itzá. One of the New Wonders of the Modern World, is located Xcajum, one of the most beautiful cenotes in Yucatan.
5-CENOTEs casa tortuga
Casa tortuga is part of a flooded cave system located north of Tulum.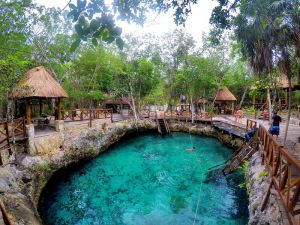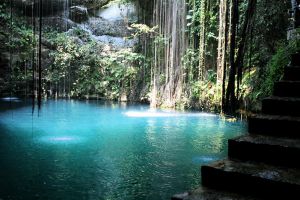 The Yucatan Peninsula is full of places that go beyond its incredible history. Has very rich gastronomy, its spectacular traditions and the kindness of its people. Hidden among the jungle you can see the cenotes that are always waiting for you to enjoy the depth of its completely crystalline waters. you may have seen many photos but I assure you that nothing like living it.