LAND OF CENOTES
There are many Cenotes in Riviera Maya there are many very beautiful ones. Which I will give you their names below. It is important to know that not all cenotes have the same hue in the water. This is due to the type of cenote, for example, there are cave, surface and shooting cenotes. See tours of cenotes in Riviera Maya
CENOTE ZACIL HA
It is a beautiful place to visit and get to know a small cenote with a natural environment. Full of vegetation as well as fauna typical of the Mayan region.
YAXMUUL CENOTE
Dare to live a different experience by enjoying this beautiful cenote. They will receive you with a Mayan ceremony, the place is surrounded by trails under the dense jungle that characterizes the Mayan area. Enjoy taking a dip in the crystal clear waters of the 3 cenotes that are right there. See tour to cenote YaxMuul

CENOTE DOS OJOS
In this recreational park you can visit several Cenotes in Riviera Maya. All of them are worth it, in addition to doing various activities. It is also possible to take the option of visiting only Dos Ojos which is very worthwhile. This cenote is one of the deepest in Riviera Maya. Therefore people who like cavern diving always prefer it.
CASA TORTUGA
If you are one of the people who like to live different experiences full of emotion and nature. I suggest you visit this cenote. With a depth of 1 to 8 meters, you will be amazed by the crystalline jade green color that allows you to distinguish the bottom. You will also be able to see the endemic flora that adorns the surroundings of the place.
GRAN CENOTE
It is located very close to the archaeological zone of Tulum. About 3.5 kilometers. Heading towards the Mayan ruins of Cobá. This wonderful cenote is the best known in the area. It is perfect for people who love snorkeling. It has a circular shape inside and you can also admire stalactites and stalagmites. Its depth is around 10 meters.
CENOTE CARWASH
In addition It is known that way because before taxis were washed next to this cenote. Moreover currently it is no longer done, that is why the local people called it Cenote Carwash but its real name is Aktun Ha. As well as its located a few kilometers from Tulum. Visitors comment that it looks like a huge pond. Its dimensions are 50 meters wide with an average depth of 4 meters. The wooden path has a platform that allows children and adults to have fun jumping into the water.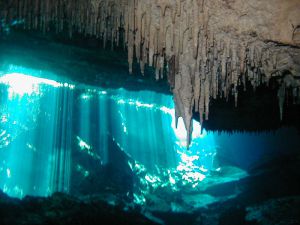 If you are staying in Cancun or Riviera Maya. Is very easy and safe to know these wonderful and enigmatic places. Your social networks will look great with the best photos of your vacation.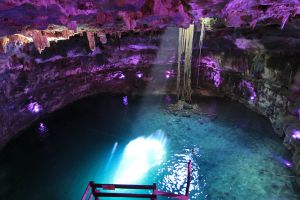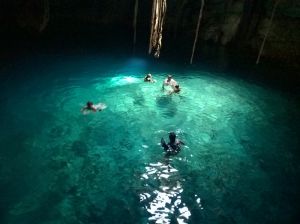 In most of them we can swim and they are open to the public. Their costs vary from $ 300 to $ 800 pesos, it is worth swimming in its crystal clear waters.