LET'S WELCOME SPRING TOGETHER
Let's celebrate life in Mayan Equinox, surrounded by nature in a unique place! It is about Chococacao Maya. As we all know on March 21 we celebrate the beginning of spring. Let us remember that the Mayans knew perfectly the changes of the season through the equinoxes and solstices. It is about enjoying as our ancestors did. It is a day to give thanks to Mother Nature with offerings, music, dances and the production of 100% organic products. As was done thousands of years ago. Today for different reasons this incredible tradition has been lost. And we want to revive it.
When is the Mayan Equinox
That is why on March 21 the meeting place will be Chococacao Maya in Coba. It is a family event that will be taking place throughout the day. Where the whole family can participate in different activities and of course, live with people from the Mayan community. And thus get out of the routine by participating in this event. Which will undoubtedly be a different experience for you and your family.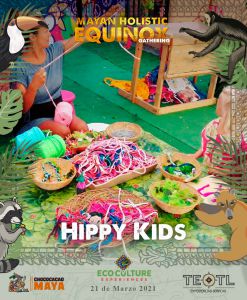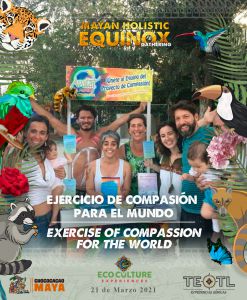 ENJOY A DAY FULL OF POSITIVE ENERGY
The Mayan Equinox dare to spend a unique day tasting regional dishes. Swimming in an incredible sacred cenote, dancing and tasting some drinks made with raw cacao. Which according to Mayan descendants. Could only be drunk by people of the upper class or ruling class. You can also relax practicing yoga surrounded by Mayan vestiges where you will feel the peace that our body and mind need especially in these times.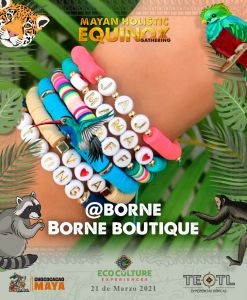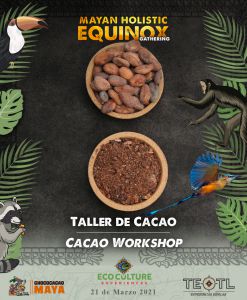 Let's forget for a moment that there is a currency and let's exchange seeds as it was done in ancient times. This is the opportunity to live an unforgettable experience.
Regional and international artists who coincide with the idea of preserving this wonderful culture through their art will participate. Then you will also have the opportunity to buy directly from local artisans as they will bring their products to offer such as obsidian works, this wonderful and ancient stone that they used to perform different rituals, products made with honey, such as soaps, candles, skin products among others. You will visit a Jobon, a place where Melipon bees live and produce the most valued honey in the world for its medicinal properties.
SUGGESTIONs for mayan equinox
We always recommend you to go very comfortable clothes to participate in all the different activities, wear a bathing suit because surely when you see the cenote you will not resist swimming in this enigmatic place where, according to the Mayan culture, swimming in a cenote will make you feel younger.