Some Whale Shark Facts
The Whale Shark Swim. This is the largest fish in the underwater world. It lives in tropical waters such as those of Cancun and Isla Mujeres. This fish is harmless to humans and with just a visor, snorkel and fins you can swim alongside this wonderful fish. Swim with this beautiful giant of the sea.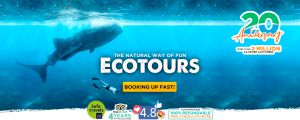 A Whale Shark swim experience
An amazing and shocking impresion when you jump from the boat into the water to find yourself almost head-on with the giant fish. It is a unique sensation to see a fish so big that you could easily fit in its mouth. And with great patience and delicacy he only stands aside to evade you without hurting anyone. This animal created by God is truly very noble. Get to know him departing from Tulum.

Wich is the whale shark size?
It is the largest fish on the planet. Its length from the mouth to its tail can vary between 10 and 12 meters in most specimens. But some specimens have been found that can measure up to 14-18 meters long. That's right, some the size of a passenger bus have been sighted. In addition to its enormous size, this beautiful animal can weigh more than 15 tons.
it's not a Carnivore
The name of shark can scare a lot of people. They should call him Whale Fish so he doesn't instill fear in people who love green activities. The great fish swallows more than 5,500 liters of salt water per hour, filtering and eating plankton in its path. It closes its mouth when it is full catching and eating the plankton. As you can see, the whale shark is not carnivorous and does not pose a danger to swimmers.

Whale swim Season
The whale shark visits the waters of Cancun, Isla Mujeres and Holbox in the hot summer months: June, July, August and part of September. In high seasons we can see that between forty and fifty specimens are gathered. The easiest way to observe these whale sharks is to take a tour that includes ground transportation, which pass by you to your hotel. After that, it also includes maritime transportation, guide, light breakfast, etc. Dare to swim with him leaving from Playa del Carmen.
You have to arrive very early to visit these seas turquoise blue water. These types of tours include the complete snorkel equipment and life jacket. In this way, an unforgettable experience is guaranteed that will change the way you see these marine fish and overcome the fear of facing these wonderful animals. 
It is a life experience that as very few have enjoyed doing.