Isla Contoy to relax is a Mexican island, it belongs to Isla Mujeres, it is in the state of Quintana Roo. The island is 8.75 km long, and from 200 to 700 m, 500 m wide on average, it has an area of ​​230 ha. of land surface.
Get this beautiful Island from Cancún on All Inclusive Tour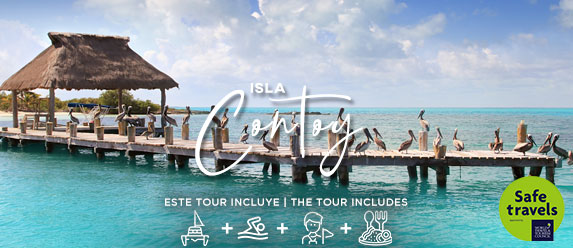 WHAT DOES CONTOY MEAN?
Its name has two possible translations, the first one refers to two Mayan words: Kom, which means low, and To'oy, which means shelter, together it means the low waters that give shelter to sailors, in the same way, the second option comes from the word Pontó which in Mayan means or pelican The two options are correct, since Isla Contoy shares the reef Palancar the second largest in the world, likewise, it is also known as the Island of the Birds because of the great diversity of birds that inhabit this place and use it as a refuge.

HISTORY OF CONTOY island
If you want to know more about the history of this beautiful island. We can talk about the earliest time of its foundation. In other words, there is a small museum with many investigations about the flora and fauna. If you are interested in knowing more details, you can request a small tour. I think it is worth it.
HOW DO YOU GET TO CONTOY Island?
It is very important to know that there is no ferry to get to Isla Contoy. Only by tour or private boat. You can buy your tours both from Riviera Maya agencies or from travel agencies. in spite of this, places like this are only seen in the movies. Isla Contoy National Park is a sanctuary of beautiful birds. Without hotels, cars, or crowds of people, where you can live an unforgettable experience.
Aerial photo of Isla Contoy The turquoise sea of ​​the Mexican Caribbean, like a sailor's dream. It covers 800 meters at its widest point and has a total extension of 9 kilometers.
Contoy Island Relax. This island is in the direction of Isla Mujeres, therefore if you dare to enhance this incredible tour, you will surely have the opportunity to admire Isla Mujeres, I recommend you see options here.