Weather in Cancun
Discover the Best Time to Visit Cancun: Weather, Seasons, and Unforgettable Experiences

Discover the Best Time to Visit Cancun: Weather, Seasons, and Unforgettable Experiences
Planning a trip to Cancun, Mexico? Choosing the best time to visit this tropical paradise can significantly enhance your experience. In this comprehensive guide, we'll explore the ideal seasons, weather conditions, and must-know tips for a memorable trip to Cancun. Whether you're seeking a sunny getaway, a thrilling spring break adventure, or a tranquil shoulder season escape, we've got you covered. Let's dive in!
Best Time to Go to Cancun: Ideal Seasons and Weather When it comes to planning your trip to Cancun, understanding the weather patterns is essential. The city boasts a tropical climate, characterized by warm temperatures, abundant sunshine, and occasional rain showers. Here's a breakdown of the best times to visit and the weather you can expect:
a. December to April: Cancun's Peak Season If you prefer pleasant weather and fewer chances of rain, visiting Cancun between December and April is your best bet. With temperatures ranging from 75°F to 85°F (24°C to 29°C), you can enjoy sunny days and comfortable nights. It's the perfect time to indulge in water activities, explore ancient ruins, and immerse yourself in the vibrant local culture.
b. June to November: Cancun's Off-Peak Season and Hurricane Awareness The period from June to November is considered Cancun's off-peak season due to the increased chance of rainfall. However, don't let that discourage you! This time of year offers unique advantages, including lower hotel rates and fewer crowds. It's important to note that this period also coincides with hurricane season. While the chances of a direct hit are relatively low, it's advisable to stay informed and follow any safety instructions provided by local authorities.
Cancun Mexico Weather: Your Ultimate Guide To make the most of your time in Cancun, understanding the local weather conditions is crucial. Here's what you need to know:
a. Sunny Days and Tropical Vibes Cancun is renowned for its abundant sunshine and warm climate. Expect clear skies and plenty of sunshine, especially during the peak season from December to April. Remember to pack sunscreen, hats, and sunglasses to protect yourself from the tropical rays.
b. Seaweed Season and Beach Conditions While Cancun's beaches are usually pristine and postcard-worthy, seaweed can occasionally affect the shoreline. The seasonality of seaweed influx varies, but it's more common during the summer months. Local authorities and hotels work diligently to keep the beaches clean, but it's always a good idea to check for updates before your trip.
Spring Breakers' Paradise: Unforgettable Experiences Cancun has earned its reputation as a spring break destination, attracting thousands of college students looking for an unforgettable vacation. If you're seeking a lively atmosphere, incredible nightlife, and beach parties, plan your trip between February and April. Join the vibrant crowds, soak up the energetic ambiance, and create memories that will last a lifetime.
Shoulder Seasons: The Best of Both Worlds For those who prefer a balance between pleasant weather and fewer tourists, the shoulder seasons are ideal. These seasons, spanning from November to mid-December and May to June, offer a sweet spot between the peak and off-peak periods. You can enjoy favorable weather conditions, explore popular attractions without long queues, and even find attractive deals on accommodations.
Bikini Contests and Special Events Cancun is known for its exciting events and festivities. If you're looking to witness bikini contests, beach parties, and other vibrant gatherings, keep an eye out for events happening throughout the year. October and November, in particular, are known for hosting exciting competitions.
What's the Weather like in Cancun?
We know all Cancun travellers are visiting us for the sunshine. The Cancun weather forecast is useful when planning a vacation.
The weather in Cancun is pretty much "perfect". Warm temperatures and a lot of sun. An average temperature of 78 F/ 26 C is perfect for all your exciting tours and activities. Laying on the beach, swimming and snorkeling. The weather is great so choose the forecast that suits.
BOTON
Rainy season in Cancun?
There is a rainy season in Cancun. Autumn, between the months of September and October can be wet. But don't worry! The rains come and go very quickly. It can rain without warning and five minutes later you will see the sunny sky and even rainbows. Your waiter will be ready to bring you ceviche and another beer in less time than you imagine.
Cancun, the Riviera Maya and Tulum have become famous for the beautiful warm climate. The weather and the transparent water of the Caribbean makes it a top 10 destination in the world.
You will always have things to do regardless of the weather. If it is cloudy perhaps visit archaeological sites. If it is sunny to go to Isla Mujeres on a catamaran. Maybe fishing, snorkeling or even diving. If it rains it is best to visit the cenotes that are in caverns or ATV motorcycles with the mud.
These are the weatherproof tours in cancún.
It is the destination par excellence that you must enjoy to the fullest.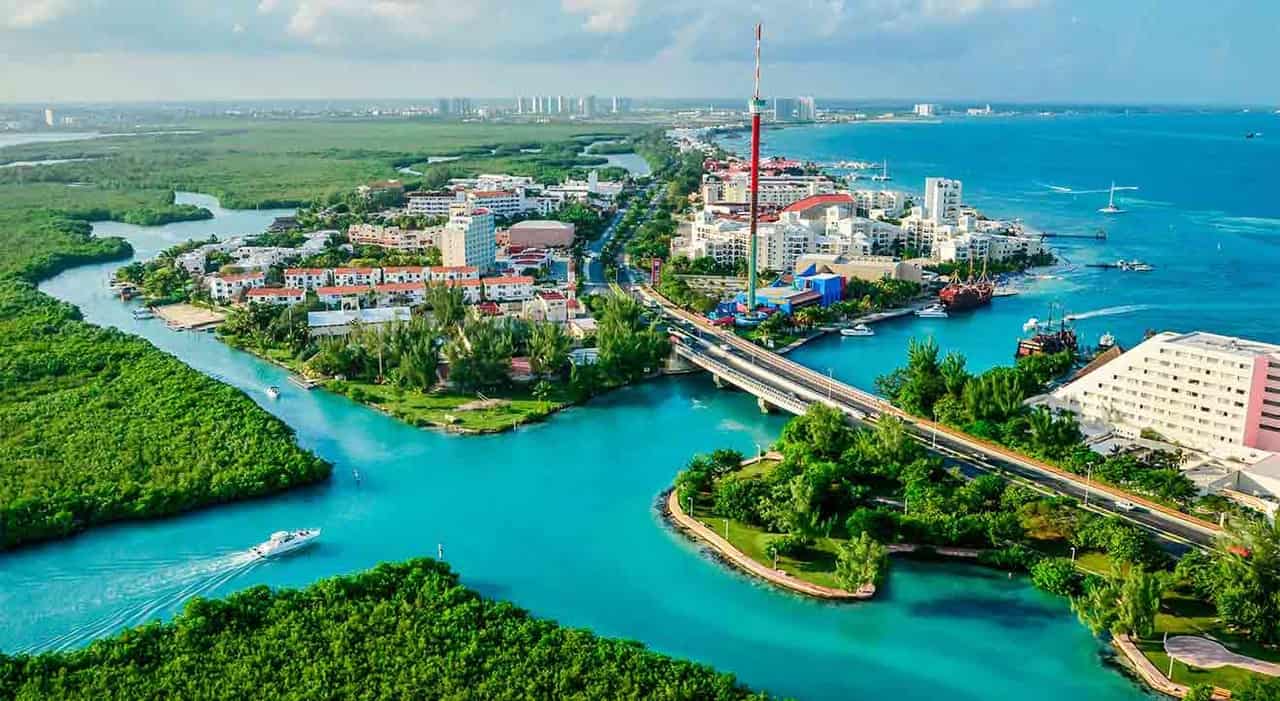 What is the temperature in Cancun?
The average temperature in Cancun is 78 F/ 26 C.
You can have highs up to 90 F/ 32 C or more in summer. Lows down to 70 F/ 21 C. In rare cases the temperatures will drop lower but it is very uncommon!
In the winter months you may want to pack a sweater or light jacket. The evenings can be for the cooler, but no parkas are necessary. The sea temperature is always nice, so the best time to go to Cancun is all the year.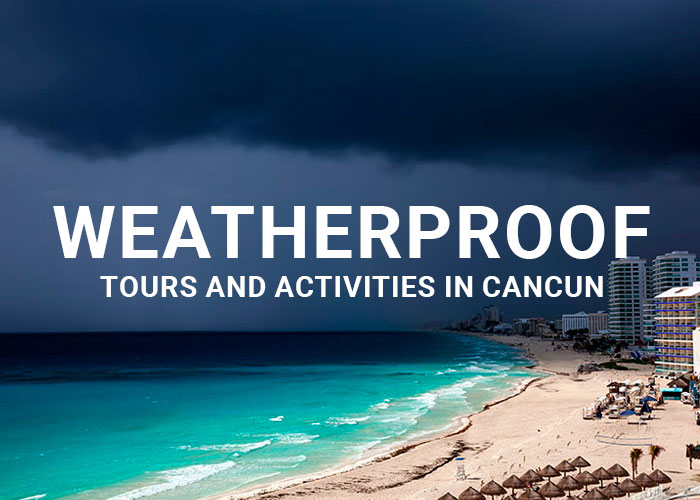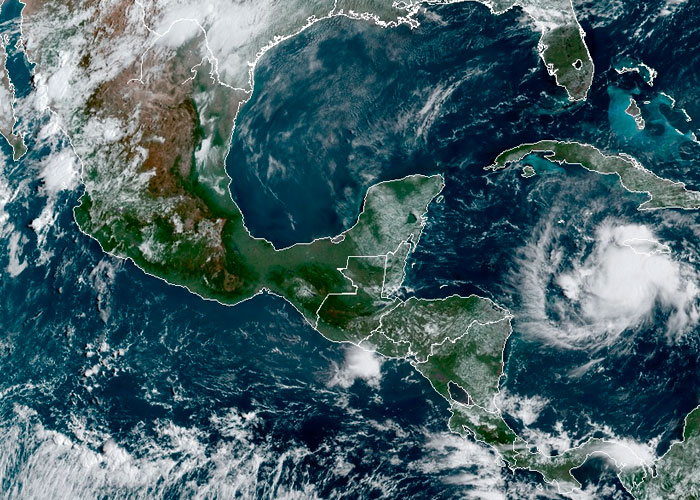 What is the best time to visit Cancun?
Anytime, you are always welcome, there is no BAD time to visit Cancun!
The Cancun weather is best during the dry, cool season, the months of January to April. You can count on great temps and little to no rain. The Cancun humidity is highest in the summer months with the heat but you can always refresh in the sea or the pool.
All the year is the best time to go to Cancun. The high season or peak season is in summer, but you can get great deals in September. If you are looking for some action, you are going to love the spring break.