What to do in Cancun?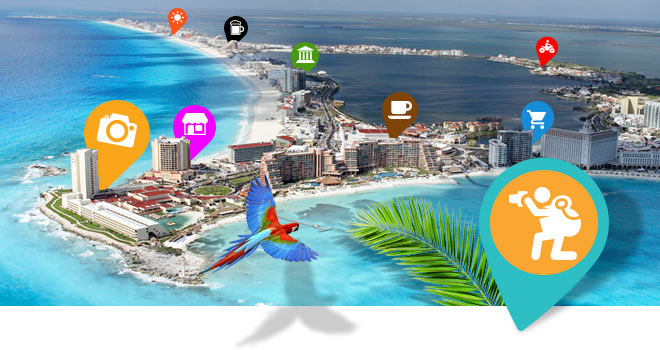 Beach, pool, beach, pool...Cancun is so much more! There are SO many unique things to do in Cancun it's impossible to mention them all, but we're happy to bring you a list of a few our favourite Cancun activities and attractions!
Mayan Ruins Tours in Cancun

The city of Cancun may be young, but the land on which it sits has a fascinating ancient history! There are several major Mayan ruins sites within easy reach of Cancun, some of them are even hidden right in the hotel zone! Pay a visit to El Rey or San Miguelito, two small but interesting Mayan ruins sites in the hotel zone of Cancun. Coming to Cancun and NOT taking a Mayan ruins tour is like going to Egypt and NOT seeing the pyramids, it's a must!
Islands Near Cancun
The Mexican Caribbean is more than just Cancun, it's a range of unique destinations including several nearby islands that are perfect for a day trip from Cancun. Take an Isla Mujeres catamaran cruise, enjoy a snorkeling tour in Cozumel to see the starfish at El Cielo or visit the exclusive nature reserve island of Contoy.
Cancun Extreme Adventures

With year-round tropical weather, the nearby Mesoamerican reef and the vast jungle that surrounds Cancun, it's the ideal destination for adrenaline junkies. Scuba dive with bull sharks or fly on Riviera Maya ziplines over the jungle canopy, explore ancient caves and swim in underground rivers or rappel into a cenote and race down jungle trails on powerful ATVs, there are simply TOO MANY Cancun extreme adventures to choose from, one is never enough!
Things to do in Cancun at Night
Eat, drink and be merry! The dining scene in Cancun is truly extraordinary, from world-class haute cuisine restaurants to taco stands on the corners, your palate will be satisfied with every bite! Take a Cancun food tour and discover REAL authentic Mexican flavors in Cancun! If you like the nightlife and like to boogie, start your night with dinner at Carlos n Charlies then move on to dance the night away at Coco Bongo Cancun, one of the most famous nightclubs in the world!
Romantic things to do in Cancun

A Cancun honeymoon is a great way to celebrate your everlasting love! Long walks on the beach, holding hands while parasailing over the sea or simply sharing a fresh coconut while staring into each other's eyes, amor is everywhere in Cancun! Lovers will adore the Columbus Lobster Dinner Cruise or a night at the spectacular Riviera Maya Cirque du Soleil Joya or a couple's spa day at your resort. Celebrating your wedding anniversary in Cancun will make you feel like honeymooners all over again!
Things to do in Cancun with kids
Cancun truly is for EVERYONE, even the littlest member of the family and your cynical teenager will have a blast on a Cancun family vacation. Keeping kids active is easy, Xcaret Park offers Cancun activities in nature, history and culture in a beautiful setting. Ventura Park Cancun is full of exciting water slides and "extreme" adventures with areas just for the wee ones to splash and play too. Swim with dolphins in Cancun, visit the Interactive Aquarium or just building sandcastles on the beach, the list of things to do with kids in Cancun is truly endless.
So what are you waiting for? Let us help you find the perfect Cancun excursion for YOU and your family, join us in chat and let us know what things to do in Cancun interest you and we'll hook you up with the perfect Cancun tours and activities!